Therapy
Some Examples of What We Offer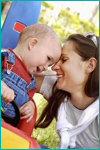 Babies and Toddlers
Problems or concerns related to babies who are born prematurely
Developmental delay – early intervention is vital
Orthopaedic problems - talipes (club foot, positional and structural), torticollis (Wry Neck), Brachilal plexus injury (Erbs Palsy), developmental hip dysplasia
Neurological problems, congenital or acquired – cerebral palsy, head injury
Advice about flat feet and bow legs and toe walking
Children
Problems with hypermobility
Orthopaedics - Juvenile arthritis, Perthes Posture, neck and Back concerns, including scoliosis , Oschgood Schlatters ,knee pain, growing pains
Problems with balance and co-ordination – including dyspraxia developmental co-ordination disorder and Sensory Integration Disorder, handwriting difficulties
Neurological conditions, e.g. cerebral palsy, head injury, muscular dystrophy
Respiratory Concerns, asthma, cystic fibrosis
Children and Sport
Whether your child enjoys occasional sport or has potential to be an elite athlete looking after their bodies is essential to achieve their potential and prevent injury.
We offer musculo- skeletal profiling this involves looking at muscle imbalances, alignment, movement patterns all of which can change during periods of rapid growth.
Appropriate sports injury rehabilitation – making sure children return to sport pain free and confident. Kid's physio has many benefits, and keeping healthy and ensuring your child can make the most of their abilities are just a couple.